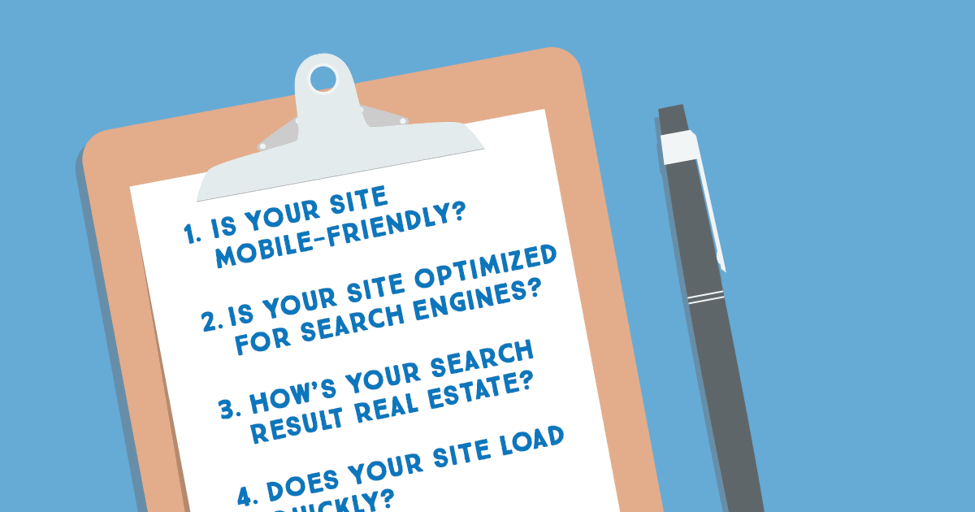 Your website is an investment. It takes time and resources to not only develop, but maintain.
It's also a representation of your business. For many of your potential customers, your website is your first impression.
At RWL Design, we think your investment should be worthwhile. And, we believe your website should always help you put your best foot forward. This is why we encourage every business to perform a digital presence evaluation.
During your evaluation, one of the major points of consideration is your website. To help you take stock of how your website is performing and make immediate improvements, we've outlined 11 ways to evaluate your website right now.
Is your site mobile-friendly?
Why This Matters: In 2015, Google released an algorithm update so intense it was dubbed "Mobilegeddon." The algorithm placed a higher relevance on sites that are mobile-friendly.
The Check: View your site on both a mobile phone and tablet. If possible, try to look at it on multiple different types of devices including an iPhone, Android device, iPad, and Kindle. Is the text readable? Are the buttons easy to use? Does the site still load fast?
Additionally, we recommend you use Google's Mobile-Friendly Test This will show you if Google considers your site mobile-friendly.
The Fix: If your site isn't mobile-friendly, the ideal fix is to redesign it with a responsive interface (one that scales appropriately to each user's device). However, a complete redesign takes time. As a quick-fix, your web designer can often add a patch to your key pages. This temporary solution isn't ideal. However, it will allow you to provide a better user experience while developing your new site.
Mobile-friendly sites are essential to user experience and your website's Google ranking.Click to Tweet
Is your site optimized for search engines?
Why This Matters: Search engines (such as Google, Bing, and Yahoo) evaluate millions of sites to determine the most relevant search results for each user's query. By optimizing your site for search engines (a process that's often referred to as Search Engine Optimization or SEO), you can increase the likelihood your business is displayed to potential customers.
The Check: Ultimately, whether or not your site is optimized comes down to one question: Is your site getting found? Take a look at your analytics. How many visitors are you getting? What is your bounce rate? What keywords are users searching for to find you?
The Fix: If you're happy with the web traffic you're getting, great! Don't change anything at the moment. Just keep monitoring your performance. However, if your business could benefit from more visitors, the first two places to update are your page titles and header text. These two elements play an essential role for search engines as they evaluate the relevancy of your site.
How's your search result real estate?
Why This Matters: Your 'search result real estate' is the amount of space your website receives within search results. The more space your website gets, the more likely you are to attract visitors.
The Check: Google your business. The standard search result will display a title, URL, and meta description. Does the meta description displayed accurately represent your business?
Also, look to see if you received any additional space. Some websites get a much bigger footprint than others. Look at the example below. Redlands Symphony received the standard display result AND a large portion of space in the left-hand sidebar. Google used this additional space to share relevant information such as the symphony's address, phone number, and upcoming events.
The Fix: Update your site's schema. A powerful sematic vocabulary, schema can be embedded in your website's code. It provides search engines rich snippets of information that communicate not just what your content says, but what it means.
How's your search result real estate? Use schema to get the best results possible.Click to Tweet
Does your site load quickly?
Why This Matters: Kissmetrics proved that the longer the load time, the lower the conversion rate. This means if your site is slow, you are less likely to capture leads and secure sales.
The Check: Use Google's PageSpeed Insights to see how fast your website is on both mobile and desktop. Both your mobile and desktop performance will be given a score ranging from 0 - 100. Additionally, Google will give you recommendations as to how you could improve your performance.
The Fix: Improperly sized and formatted images are one of the most common reasons a site loads slowly. While big images with the high resolutions are ideal for printing, they aren't such a great choice for the web. Large file sizes take longer to load. Rather, consider dropping the resolution of your images to 72 dots per inch (DPI). And, resize them to fit the specific pixel width and height that will be displayed to visitors. Also, consider if you can remove a jpg or two.
Are your opt-in forms functional?
Why This Matters: One of the most important roles of a website is capturing leads. Whether it's getting visitors to sign up for a monthly newsletter or request more information, you want to make it as easy as possible for them to do so. Barriers of any kind can significantly reduce your opt-in rate.
The Check: Try filling out your own opt-in form. Do so from both your mobile device and desktop. What hiccups did you run into? Did it take you a significant amount of time? Does the cycle complete from filling the form to delivering the outcome promised to the user?
The Fix: Identify the most vital information you need from visitors. It might be that you just need their email address. Or perhaps you need their name, phone number, and email. The key is to not ask for more than you absolutely have to have.
Additionally, make sure the field requests are clear, simple to select, and easy to fill in on all devices. This might mean enlarging the size of your form. Or, it could mean changing the color of your field request boxes to make they stand out. A lot of people say certain colors perform better, but really it comes down to the button's hierarchy and contrast on the page.
Functional opt-in programs help you retain customers and maximize engagement.Click to Tweet
Does your website clearly communicate your mission?
Why This Matters: Your website is a representation of your business. For many visitors, it will be their first impression. This is why your website needs to clearly and effectively communicate who you are and what you stand for. Do you communicate the breadth of what you do? For example, if you are an e-commerce website, don't just put your sale items on the home page. Display a subset of products from all your categories so that users see the range of your offerings. B & H Photo does this well.
The Check: Ask for an outside opinion. Honestly evaluating your own website can be extremely difficult. You know your business' mission. You are familiar with your website. Schedule some user testing time with Usertesting.com and target your ideal, new customers.
The Fix: Update your website copy so it clearly communicates who you are. This could be as simple as re-writing the header text on your homepage or as in depth as revising your entire site.
Is your site easy to navigate?
Why This Matters: The typical visitor comes to your website for one reason - information. If they can't find that information, they are going to leave. This is true even if you have the answer for which they are looking. If it is buried and impossible to find, the result is still the same. They will leave.
The Check: This is another instance where customers can be helpful. Send your website to subset of your target audience and ask them to have a look around. Did they find it easy to navigate between pages? Was your contact information clearly listed? Did they run into any speedbumps?
The Fix: Using their feedback, consider updating your page titles and menu descriptions. Additionally, you might consider revising your call-to-actions and the layout of your pages.
It can be tempting to fill up each page with every possible detail. Resist the urge. Less is more. When you pack a page with too much information, it can overwhelm visitors and cause them to leave.
Are there typos? Is your content written for the web?
Why This Matters: Having misspelled or improperly used words on your website is a lot like sticking your foot in your mouth. It just makes your business looks silly and less trustworthy. (hardy harr harr)
The Check: The best fix is to hire a professional editor to perform a content audit of your site. They will be able to identify misspelled and misused words. Additionally, they'll help you identify any confusing or misleading language.
The Fix: Correct your mistakes. Update your copy by correcting the misspelled and misused words. Additionally, if any confusing sections have been identified, rewrite these sections to make them clear and concise.
Do you make it easy for visitors to contact you?
Why This Matters: Connecting with your audience is the ultimate goal. That's what leads to more sales and donations. If it's not easy for visitors to contact you, most won't. The average person just isn't willing to work that hard.
The Check: Again, test your website with users. Ask them what they think. Is it easy to find your phone number and/or contact page?
The Fix: If they say no, consider placing your phone number in a more prominent location on your website. Additionally, we highly recommend clearly labeling your contact page within the menu of your website.
Are your call-to-actions engaging visitors?
Why This Matters: Every business has one thing in common - they all want their customers to buy their product or service. Call-to-actions (CTAs) tell your web visitors exactly what you want them to do. Whether this is opting into an e-mail newsletter that will eventually convert them into a customer or buying a product now, getting visitors to act is essential.
The Check: Take a look at your analytics. What percentage of visitors are following the funnel you created to your desired outcome? Which CTAs are getting clicked?
The Fix: Compare the CTAs that are working to those that aren't. Use this information to update the CTAs that aren't performing as well as you would like. Try testing the CTA, button placement, lead text, and imagery at the same time. There's really not enough time in a day to test each piece separately. Watch the results and then make smaller changes as you see increases.
How long you test changes will depend on how much traffic you receive. A website that sees 100k visitors in a month can have shorter test cycles than a website that gets 10k visitors in a month.
Clear call-to-actions help you engage customers, capture leads, and increase sales.Click to Tweet
Is your website equipped with analytics?
Why This Matters: Without proper analytics, formatting your website for success is like shooting in the dark. Analytics allow you to see how your website is getting found, the landing pages where people are entering your site, how long they are staying on your site, where they are exiting your site, and more. These key details allow you to optimize your presence to increase results.
The Check: Is your site equipped with analytics tracking software?
The Fix: Google offers free analytic tracking software. Embed Google's tracking code snippet between the and tag of your site. This will allow you to start tracking your site's performance.
Next Steps
Need some help implementing these fixes?
Let our team handle the improvements so you can focus on what you do best.