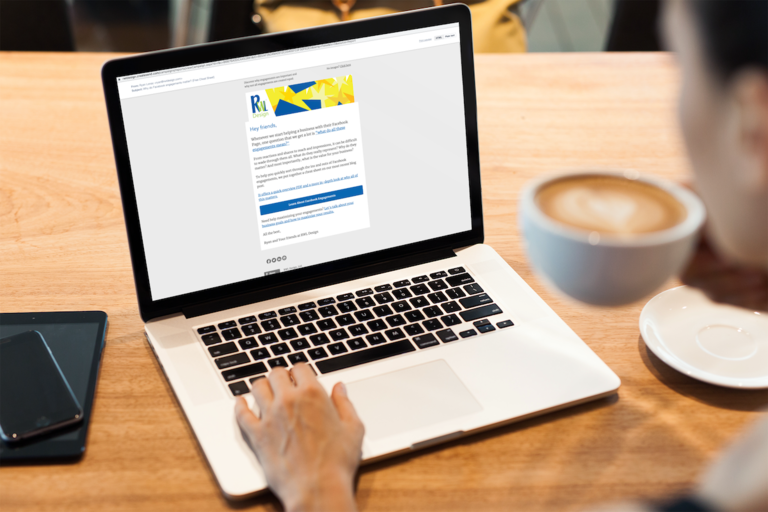 According to a recent study released by Statista, 4.03 billion people around the world use email as of 2021. Not a single platform even comes close to that potential audience size, including the powerhouse Facebook, which has just 2.2 billion active monthly users.
Having an Established & Verified Email List is Critical
Before we dive in, it's important to remember that the success of email marketing is predicated on having an established and verified email list. For businesses still growing their email list, other marketing funnels, like Facebook and Google ads, may offer a higher ROI.
These funnels can also be a great way to grow an email list. By creating a valuable freebie to market, you can entice potential customers to sign up for your newsletter in exchange.
6 Benefits of Email Marketing
1. You Own Your Email List
One of the worst traps you can fall into is making a platform you don't own the lifeblood of your business. Facebook. Instagram. Twitter. LinkedIn. Pinterest. YouTube. All of these social media platforms can be an amazing way to promote your products and services.
But you could also be kicked off of these platforms at a moment's notice. (This is a reality many companies face more often than expected.)
In the case of email marketing, you own your own list. Even if an email service provider suspends your account, they don't take away your contacts.
2. Email Marketing is Cost-Effective
According to Litmus, email marketing has a 3600% Return on Investment (ROI). Of course, not every business and organization makes $36 for every $1 they spend. But generally speaking, the ROI for email marketing is substantially higher than any other platform.
This high ROI rate is due in large part to the 5 other benefits listed here and a relatively low overhead.
3. You're Reaching a Warmer Audience
Gone are the days when a professional digital marketer would even consider recommending a purchased email list. DO NOT BUY YOUR CONTACTS. If anyone recommends you do, politely exit the conversation.
In fact, you want to make sure everyone on your email list has opted-in. Not only is this essential for being GDPR and CCPA compliant — an audience who has voluntarily signed up for your email list is warmer.* They have a genuine interest in your emails. These individuals are more likely to convert.
Furthermore, most paid email service providers require you to pay based on how big your email list is. Do you really want to pay for someone who has little to zero interest in what you're offering?
*GDPR stands for General Data Protection Regulation. It was passed by the European Union (EU) in 2016. It established legal guidelines around the collection and processing of personal information from individuals who live in the EU. In 2018, California passed a similar law, the California Consumer Privacy Act (CCPA). More US states are passing their own data/privacy laws that could push for a federal update as well.
4. You Can Personalize Your Message
Think about your best relationships. They're personal because your friends and family know things about you. The same is true of email marketing.
The more personalized you can make your message, the better chance you have of creating a strong relationship with your customers and building brand loyalty. Sometimes this means sending a personal email. We're talking, you writing directly to a single customer.
However, as you scale your business, this becomes less and less practical. In the realm of email marketing, personalization typically happens in a bigger funnel. This can take multiple forms. These are some of the most common:
Using a Customer's Name: This is the most common email personalization. It can help an email recipient feel recognized. After all, everyone likes to hear (or read) their name.

Celebrating a Customer's Birthday: A happy birthday message can be a great way to make contact with a customer and make them feel special. (I'll be honest, there have been a few birthdays when Starbucks remembered and some of my family did not. LOL.)

Sending a Helpful Maintenance Tip About Their Specific Product: Maintenace tips can be sent months or even years after a customer has purchased a product. This is a great way to get in front of your customer again and deliver valuable information. It can also be a good way to highlight any maintenance service you provide or any maintenance products you sell.

Product/Service Updates: Did your company recently make updates to one of the products or services you provide? Sending out a 'What's New' email to relevant customers can be another great way to show them value and keep your business top of mind.
5. You Can Make Dynamic, Timely Changes to Your Messaging
If the pandemic has taught us anything, it's that things can change in an instant. Traditional marketing collaterals, like printed mailers and TV commercials, take time to produce and disseminate.
If your messaging changes after they've been produced, pulling them can be costly. And, reproducing a corrected version in time may not even be an option.
Email, on the other hand, can be changed down to the last second. Furthermore, if you need to send a correction, it can be done relatively quickly.
6. You Can Automate Your Funnel
While we touted the importance of personalization, one of the beauties of email marketing is how streamlined it can be. An automated funnel can help individuals voluntarily opt-in to your email list and then be guided through a virtual sales process.
Often the goal of this sales process is just to get someone to fully commit to receiving marketing emails (and then eventually become customers). However, some funnels can walk a lead right into becoming a customer — without you ever lifting a finger!
No. 1 Email Marketing Mistake: Always Selling
If every time you talked to someone they tried to sell you something, how often would you talk to them? Probably not very often.
The same is true for your email list. If every email you send is a hard sales message that is only asking for a purchase and not delivering any additional value, chances are folks are going to stop opening your emails. They're going to unsubscribe. They're going to flag your emails as spam.
While there's no shame in selling the product or service you provide, take a step back from your email. Ask yourself: Why am I sending this? What value would I get out of this email if I was the customer?
Sometimes your emails will be just a sales email. That's okay. But you want to make sure they're not always just a sales message. It's 100% okay to send an email that just shares a funny or interesting tidbit that's relative to your business.
Additional Email Marketing Mistakes to Avoid
Not Using a Verified Email List
As we mentioned above, the GDPR and CCPA were passed to protect individual privacy. Not being compliant can put your business in legal jeopardy. One of the best ways to be compliant is to make sure everyone on your list has actually opted in to receive your content.
Plus, as we stated earlier, a verified email list helps ensure your contacts are interested in what you're sending.
Not Using a Professional Email Service Provider
It's completely okay to send an individual customer an email from your business email. But sending a message to multiple contacts from a business or personal email account is a quick way to get your content flagged as spam.
Using a verified email service provider, like Campaign Monitor or MailChimp, allows you to safely send the same email to multiple email addresses at the same time.
Not Branding Your Emails
We've talked about not making everything a sales message, delivering value, and personalizing your communications — but here's the other rub of it — email marketing is intended to support your sales goals.
Whether you're sending a message with the direct intent of getting a sale or not, ultimately the goal is to build brand loyalty and promote sales. Keeping your brand front of mind for your customers is essential to your success. Every marketing email you send should be branded. It should include:
A website link

Any relevant social media links

A message about why your recipients are receiving these emails

An address
Too Many Emails in a Row with Too Many Purposes
Email open rates are going to change with iOS 15 and similar updates, but they may not accurately tell the whole story. Click rates could easily become a more important KPI. And typically, an email that is more concise will get more clicks.
There will always be shake-ups. Keep sending valuable, interesting content — and keep testing.
Make Your Email Marketing Work for You
Need help creating personalized emails that engage your customers and promote brand loyalty? Do you have campaigns set up for holiday sales and end-of-year giving? Is your email marketing software set up to limit getting marked for spam? Our marketing team has more than 30-years of combined email marketing experience.
Let's chat about how to make email a cornerstone of your marketing efforts — this year and moving forward!
Additional Reading
Want to get the most your of Instagram? Use the following tips to track and optimize your Instagram performance quickly and effectively.
In the age of COVID, websites, social media platforms, and — most importantly — email are the backbone of successful marketing strategies.
Want to boost your search ranking and build trust with customers? Focus on growing your online reviews — especially your Google Reviews.