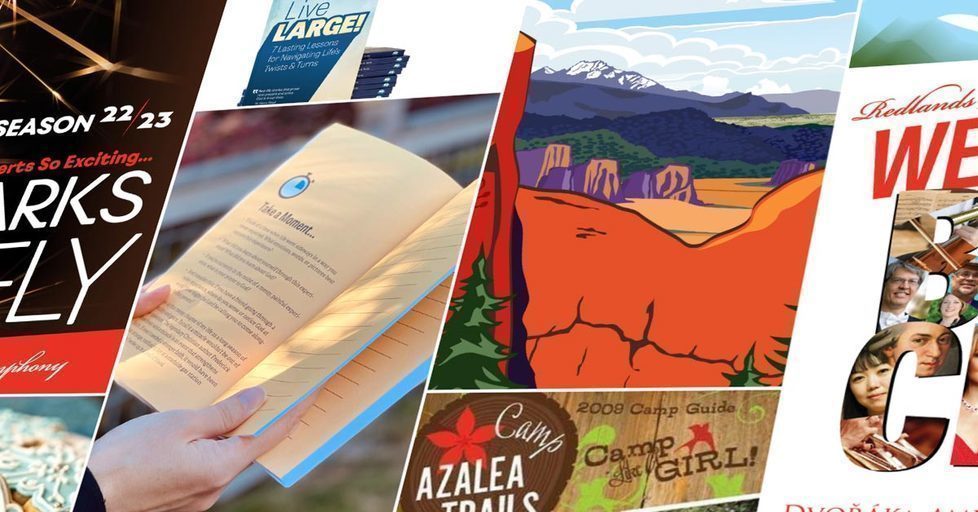 These days, more of the world—and our engagement with it—is online than ever before, but that doesn't mean we can forget about the tangible side of things.
For example, despite the relative ease of ebooks, readers continue to purchase new paper books because there is a unique connection for many when holding a physical book. Add the fact is there are many benefits of "unplugging." The reasons for traditional print keep calling.
Printing brochures, ads, periodicals, and more offer ways to reach our customers beyond the noise of digital life. They allow us to connect more tangibly and memorably (when done right).
Printing is Still Relevant in the Digital Age?
Print ads are processed differently in the brain than digital ads, evoking more emotional processing and creating better recall and brand association. Additionally, print ads help build higher trust among audiences and have higher success rates of converting potential buyers into customers (79% compared to 45% according to Direct Marketing Association). Print ads can also help increase audience receptivity to digital ads, making them an important component of a multi-media campaign.
Print Beyond Advertising
While printing can certainly help advertise your business, that's far from its only use. Printing can also be used to create forms, stationery, brochures, invites, thank you materials, and fundraising materials, among other things.
It offers abundant opportunities to create a more personalized touch with a handwritten note or signature on a thank you card to stand out to recipients. Having something to hang on a calendar or a hard copy brochure to browse during downtime also increases the chances of a person remembering important dates and key takeaways from your business or event.
How to Balance Printing and Being Green
One of the big arguments against printing is sustainability, but it doesn't have to be all or nothing. Some companies, like Hemlock, are working towards zero waste initiatives by recycling in-house products and creating high recycled content packaging.
In keeping with the times, many companies are also adapting environmentally friendly inks and responsibly sourced paper mills. One of the best (and most cost-effective) ways to be sustainable is to print only what you need. Finding a company that offers on-demand printing can help you sustainably deliver the tangible goods you require. If you need to print high volume, get estimates for the numbers you need instead of the standard quantity numbers you see online. This will help you avoid having too many extras that will end up sitting in storage.
Why Is It Important to Be Print Ready?
If you've ever opened up a website on your phone that was only designed for a computer, you'll know the frustration of cut-off text and broken functionality. Formatting is important. The way something looks on a computer screen might not translate the same way to paper, so make sure you're designing with the end result in mind.
Before sending something off to print, make sure:
Your text is sized properly

Your colors fit the ink available

Your pixel resolution is appropriate for your page size, so it prints clearly and is eye-catching
It may not need to be said, but unlike social media and blog posts (we came back and made a dozen edits here), once your pdf is sent to press, approved, and printed, the only way to make a change is to reprint. It pays to be ready.
How to Be Print Ready
If you don't have experience printing, it can be intimidating to figure out what will look good on the page. For a general idea, here's what you should aim for and how that will translate to the physical world.
300 DPI for Small Pieces
Most pieces should have a final 300ppi (pixels per inch) or DPI (dot per inch) to avoid a blurry or pixelated look. For example, a half-letter-sized page with a landscape image spanning the top would be (5.5 + 0.125 + 0.125) * 300 pixels wide — to make it full width with extra bleed at print resolution.
Consider the Bleed
Also, if you plan to let the image be flush to the edge, you need the image to be 0.125 inches wider on each side of your piece. This is called bleed. It allows printers to trim the paper to your exact, finished size – within 1/32 of an inch – without blank paper at the edges. More on that later.
Take the Size into Account
Larger pieces don't require as high of ppi since they are not viewed as closely. Large banners, for example, would generally suffice between 150-240 ppi since they are seen from multiple feet away. Billboards can get away with even less—around 30-100ppi — and still look sharp from 20-100 ft away.
Do You Need Bleed and Inner Margins?
For most pieces, plan to have a 1⁄4 inch inner margin. If you need artwork or colors to span the edge, make sure you add a bleed of at least 0.125 inches so that the printing firm can have room to trim the paper. There will be white marks on the edges if there are insufficient margins. Most printers have a 1/32 inch margin of error on the trimming—hence the 1/16 inch bleed.
Additional Print-Ready Considerations
Fit the Specific Periodical Requirements — If you're making an ad for a periodical, make sure you fit their specific requirements. That means checking and reviewing specs, ensuring the document is the right size and using the correct colors.

If Black & White, Make it Black & White — If the periodical is printed in black and white, make sure the document is entirely in black and white.

CMYK Colors — If you'll be printing in full color, make sure to use CMYK (Cyan, Magenta, Yellow, and Black) and not spot colors—unless, of course, you're required to use spot colors. It's complicated, but color is important, and there are important differences between digital presses and offset presses. So, just be sure you use CMYK or spot colors according to your requirements.

VERIFY YOUR DEADLINES — Last but not least of all, make sure to verify deadlines. That way, should any issues arise, you can give yourself time to respond to them before anything goes (or doesn't) to print. Especially now, when there are general supply chain issues in every sector while we all continue to manage COVID-19.
If you're looking to up your business game with a new printing partner, here are some printing firms we recommend:
Still have questions?
We've sent thousands of jobs to press since 2006. Contact us with your graphic design questions, and we can help you decide how best to integrate non-digital design with your web advertising.
Additional Reading
Want to convince leads you're worth the investment? Showcase real-life examples of how your customers benefited from your product or service.
Facebook and Twitter rants and may make you feel good, but they can also hurt you personally and professionally. Discover 5 reasons to keep it clean.
Has a compelling case study made you want to redesign your website? Every site can be better. But before you toss the entire thing, do some research to ensure you see real results.