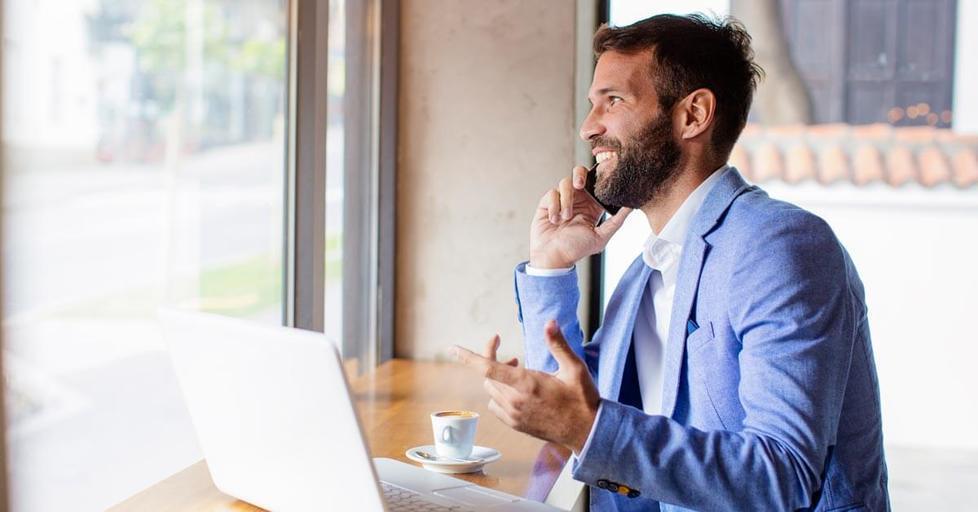 It's no secret positive reviews help your business look good. In fact, a 2018 study by BrightLocal showed 86% of consumers read reviews and that 57% of consumers will only use a business if it has four or more stars.
But the benefits of good online reviews go beyond simply building consumer trust — especially when it comes to Google Reviews.
Importance of Google Reviews
Google's search algorithms are a complicated and closely guarded secret. However, based on evaluating search performance, we can see Google reviews have a significant impact on local search results and organic search results.
(While local and organic search results are similar, the local search results place a higher level of importance on the user's geographical location at the time they are searching. Sometimes this is triggered by the user's search query and other times it's triggered by the search intent.)
According to Moz, roughly 6.5% of your site's organic ranking comes from review signals and nearly 15.5% of your local ranking is determined by review signals! These review signals are generally focused on the number of reviews your business has received, the frequency with which customers leave reviews, and the diversity of your reviews.
NOTE: The diversity of reviews refers to being reviewed in more than one location. We'll address this more closely below.
Google Reviews Boost Local Pack Search Results
In the constant battle for a strong Google rank, even a 6.5% bump can be the difference between outshining your competitor and getting buried beneath other sites. For locally operated, brick and mortar businesses, the importance of these reviews becomes even greater — especially when you take into account the Local Pack section of Google's search results.
Google's Local Pack displays a selection of three local businesses Google believes provide the best answer to your query. This section was originally called the '7-pack,' as it displayed the 7 most popular businesses in the area. However, the initial results have now been cut down to just three, making the top three spots even more coveted. According to Search Engine Land, the Local Pack results are displayed in the number one spot 93% if the time a local search is conducted. For small businesses, in particular, this is a huge opportunity to not only outperform other small businesses, but to compete with major retailers.
How to Create a Custom Link for Customers to Write Reviews
While some customers may leave you a review without any prompting, it's not uncommon for even your most loyal fans to need a little nudge.
When it comes to successfully asking for reviews, the key is to make it as easy as possible for your customers. Typically, this means providing them a direct link to the site where you'd like to be reviewed.
To tailor a user's experience, the link you'll see when you search for your own business on Google will be unique to you. This means simply copying, pasting, and sharing that link would send your customers down a rabbit hole.
The good news is, you can skip this rabbit hole. Through your Google My Business dashboard on your computer or through the mobile app, you can create a short URL that allows customers to easily leave reviews and view your business' Google profile.
Note: In order to use the review short URL from Google, you need to log in to your Google My Business dashboard and edit your location's settings to add a Short URL. Think of it as being similar to your Twitter handle or Facebook Page's short name.
With a Short URL attached to your business, you can easily copy the link as outlined below to share to your customers.
Get a Short URL From Your Computer
Sign in to your Google My Business account. Open the location you'd like to manage. In the menu on the left, click 'Home.'
In the card titled 'Get more reviews,' you'll find a short URL that you can copy and share with customers.
Get a Short URL on Your Mobile Device
Open the Google My Business app on your mobile device. Tap 'Customers' and then 'Reviews.' In the top right, tap the Share icon. Copy the short URL and share it with your customers.
Additional Review Sites to Consider
Collecting reviews is an investment. As with any activity, it's not free. It takes time and resources to request, monitor, and respond to reviews. This is why if your business has minimal bandwidth we always recommend focusing on Google Reviews first.
That being said, the diversity of your reviews does impact your online presence. This is certainly true within Google search results, as mentioned above. Furthermore, these alternative review sites can also play a role in building user trust.
Which review sites you focus on will often be determined by your industry. These sites may include:
Amazon — Essential for those selling products on Amazon.

TripAdvisor — Important for those in the tourism industry.

Facebook — A fabulous general review site for all businesses.

Houzz — Good for businesses in the home and remodeling field.

Yelp — Generally used for restaurants and hotels.
Get Help Collecting More Reviews
Our creative team works with clients to develop strategic campaigns to grow business' online reviews. From developing campaigns to request reviews to monitoring and responding, we can partner with you to handle it all.
My business could use more reviews!
More Helpful Insights
Want to build trust and confidence among potential customers? Ask your existing customers for reviews with these creative solutions.
In June, Google rolled out Google Posts for all business with Google My Business accounts. This new feature gives small business an awesome and free opportunity to increase their search result real estate!
Google My Business accounts allow your business to increase its search result real estate, deliver relevant information and more!