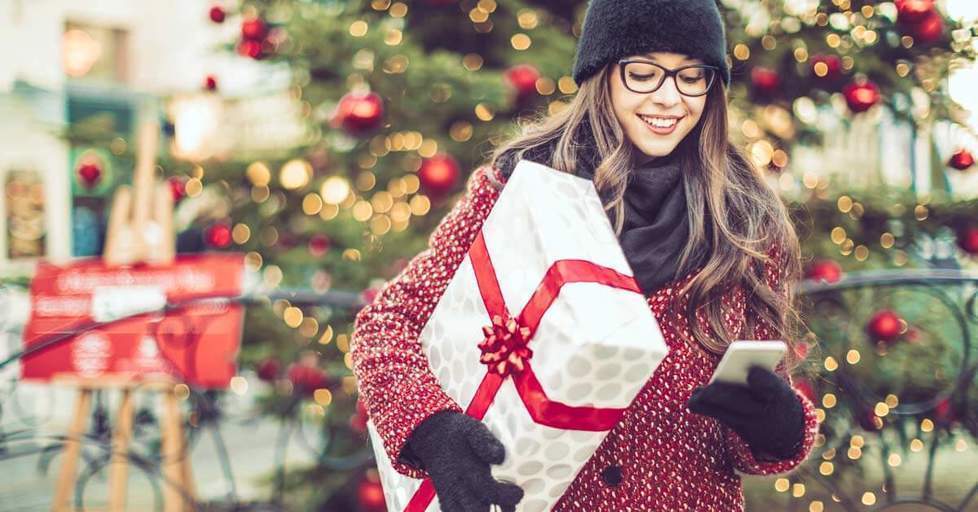 Tweet this. Share that. Post this. Should social media really be part of your holiday promotions? How can you use Facebook, Twitter, and Instagram to make this season's holiday campaign the best year yet?
The number one key to a successful social media holiday campaign is planningClick to Tweet
Why Use Social Media to Promote Your Business During the Holidays
As of August 2018, Twitter has 335 million monthly active users. Instagram has a billion active monthly users. And, Facebook has a staggering 2.23 billion monthly active users.
Make no bones about it, your customers are on social media. And if you're not talking with them, your competitors are.
According to the National Retail Association, there was $138.4 billion in holiday retail sales in 2017. Mobile conversions outpace desktop. And, 30% of online time is spent on social media, reported Global Web Index.
We're talking about your customers spending hours looking at images, watching videos, messaging brands, dreaming up bucket list items, and finding new ways to simplify their lives.
Because social media is so much more than a place where teens post selfies and businesses hawk the latest Tupperware. It's a place people connect with one another, form relationships, and gather information. Running a social media holiday promotion allows your business to be part of that conversation.
7 Tips to Developing Successful Holiday Social Media Promotions
1. Repeat a Past Success
As the saying goes: If it ain't broke, don't fix it.
Look at the holiday promotions you ran last year. What worked? What didn't? It may be that you can use some or all of a previous promotion. The caveat is, you don't want to bore your audience. If part of what made your past promotion successful was the wow factor, simply re-launching the exact same promo probably won't cut it. In this case, you'll likely need to revamp it.
2. Make Your Message Personal
'Selling' is out. Today's customers expect more. Simply being the loudest one shouting about your product isn't going to get your customers interested. In fact, it's often going to make them go elsewhere.
Think about your business as one of your friends. How would you want them to interact with them? That's how a successful social media promotion should feel.
Think about your business as one of your friends. How would you want them to interact with them? That's how a successful social media promotion should feel.Click to Tweet
Sure, you can offer discounts or free shipping. You can let your customers know about a special sale or extended hours. The key is to think, how would I tell my friends about this?
3. Develop Share-Worthy Content
'Viral content' – content that gets shared and shared and shared – is the ultimate in social media marketing. Because your customers, their friends, and the friends of their friends suddenly become your marketing team!
During the holidays, content with the best potential to go viral is often heartwarming. One of our all-time favorite pieces was put together by WestJet.
The commercial was put out in 2013. As our copywriter likes to say, "Every time I watch it, it makes me want to fly with someone who's that happy."
4. Make Your Content 'On Brand'
One of the things that made the WestJet commercial so effective was that it took a familiar story and branded it, right down to the final line: Merry Christmas to all and to all a good flight. As much as possible, you want to look for ways to keep your holiday message 'on brand.' This helps to make your business memorable, improving customer retention.
5. Optimize for Mobile
In 2017, nearly 40% of users reported that researching topics on their mobile device played an essential role in their purchasing decision. That number has done nothing but increase.
If your site's not mobile-friendly, this can drastically decrease your sales. And by mobile-friendly, we don't just mean it renders well. You want to also look at how easy it is to navigate on a mobile device.
For instance, hover features can be great on a desktop. On a mobile device these aren't available to visitors and could mean they aren't getting key pieces of information.
6. VIDEO
Video is one of the most powerful online marketing tools. It outperforms standard picture shares and link shares combined. And, it doesn't have to be incredibly professional.
Sure, WestJet's video was. But a simple video captured with your phone can often be more than enough to share an update with customers. Smile. Be friendly. And, make sure there's nothing in your teeth ;)
7. Go Live!
Hosting an event for the holidays? Perhaps you're having an open house or introducing a new product. Invite your fans to be part of the fun, no matter where they are. Broadcasting live lets people get a front row seat to what's going on.
This helps them get to know your business' culture. It allows them to ask questions. And, it helps them feel like they are part of something.
Coordinate All Your Marketing Efforts
Social media marketing is not independent from email marketing or print marketing. Nor is it separate from your how you interact with customers. It all works together and it all represents the character of your business.
You want your brand's presence to be consistent. And, you want to make sure each promotion helps to build upon the other, rather than competing against one another.
Need help developing a social media holiday promotion? Our creative team works with businesses to develop fun and engaging content that attracts leads and drives sales.
Let's talk about how to help your business thrive this season!
Additional Social Media Tips
Tired of feeling like Facebook stats are just numbers that don't mean anything? Discover which Facebook stats to pay attention to and why, because the right analytics can help you make strategic business and marketing decisions.
Build stronger, more familiar customer relationships through Facebook Messenger with these 9 tips.
The etiquette of how to respond to Facebook comments isn't cut and dry, but with a few simple principles you can acknowledge your fans and grow a community.