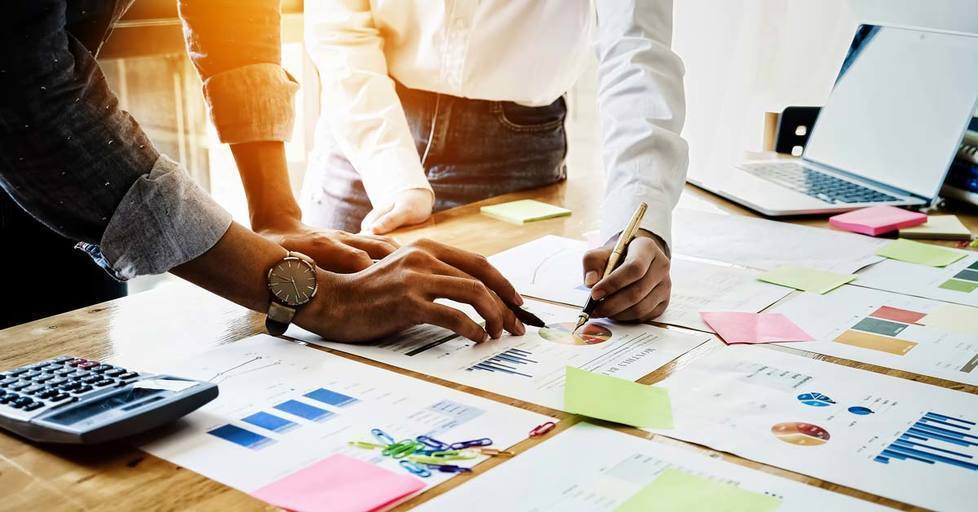 With more than 1.4 billion daily active users, Facebook offers one of the most comprehensive and effective marketing platforms for any business.
According to Facebook the vast majority of active participants are ages 18 – 29. However, this doesn't mean older demographics aren't worth targeting. In comparing social media usage for those 65+, Sprout Social found the usage breaks down as follows:
8% use Instagram

10% use Twitter

20% use LinkedIn

16% use Pinterest

62% use Facebook
Which means, even if you're marketing to an older demographic, you probably should think about using Facebook. But what stats actually matter and what are just vanity? We've outlined the most helpful general page analytics and ads analytics to get you started.
Get help managing your Facebook presence and marketing campaign.
7 General Facebook Stats Your Business Should Track
1. Engagement (especially Shares)
Facebook engagement is any positive interaction someone takes with your content. This interaction could include:
Reacting to your post

Clicking on your post

Clicking a link

Sharing your post

Leaving a comment

Watching your video
Tracking engagement is important because it helps you monitor what content your fans find valuable. Additionally, engagement plays a huge role in the organic reach of your post – how many people Facebook serves your post to for free.
In particular, Facebook seems to value shares. We hypothesize this is due to the fact that sharing a post generally takes more effort on the part of the user (indicating a higher level of interest) and that shares expand the digital footprint of a post.
It's also worthwhile to track negative feedback (including hiding posts, hiding all posts, reporting post as spam or unliking the page). Negative feedback not only reduces the organic reach of a post, it can help your business determine which content users don't want to see.
2. Link Clicks
Link clicks are part of engagement. But they are also more than that. A link click is a qualified lead going directly to a landing page of your choice.
99% of the time, the point of using Facebook as part of your marketing strategy is attracting leads and increasing sales. This typically requires driving traffic to your website. As the name suggests, link clicks are the traffic you're looking to acquire.
3. Reach
Reach indicated the total number of unique individuals who saw your post. Your page may have a lot of fans. But your content isn't guaranteed to reach your fans. In fact, most of your content won't.
Facebook's constantly changing algorithm has one consistent trait – it continually reduces the organic reach of content. The 2015 study by Locowise revealed the average organic reach for page posts was just 2.6%.
And that was in 2015! Organic reach has continued to plummet. Why then should we track organic reach? Because it helps you identify what type of content is performing well. This can help you make educated decisions about where to spend your ads budget.
4. Impressions
Similar to reach, impressions tell you the total number of times your post was seen. This number includes when a post was seen multiple times by the same fan. This is another important stat for determining the popularity of a post.
5. Referral Traffic from Facebook
Remember when we talked about link clicks? Referral traffic from Facebook similar (and perhaps even more important). This stat refers to the number of people accessing your website directly from Facebook. This could include traffic from:
People clicking a link you shared

People sharing your content on their page or profile

Clicks on your profile link.

Traffic from an ad.
Nearly all Facebook stats can be found in the Insights tab on your page. However, referral traffic is found in your Google Analytics dashboard under Acquisition> Social > Network Referral.
This stat is a good indicator of how effective your Facebook efforts are at helping you achieve your online marketing goals.
6. Video Average Watch Time
Video has become incredibly important for Facebook marketers, in large part because it has a substantially higher organic reach than link previews and images. But, you want to pay close attention to how much of your video is being watched.
According to Facebook 47% of users who view just three seconds or less of a video ad. This means, you need to hook your viewer within the first three seconds. By looking at the average watch time, you can determine what video content (and more specifically what video openings) are more effective.
Furthermore, if you're publishing really long videos and fans are only watching a small portion, this is a good indicator that you need to cut down the length of your video.
7. Engagement by Post Type
Facebook breaks posts down into three main types:
Videos

Link Previews

Images
On the 'Posts' section of your 'Insights' tab, you can view quick takeaways about each post's performance. This makes it really easy to see which types of posts are performing the best, so you can focus your attention on creating that kind of content.
9 Facebook Ad Stats Your Business Should Track
1. Conversions
Conversion ads take some technical know-how. Not only do you need to have a Facebook pixel installed, you need to have created conversion events. The extra coding effort is worth it, as these ads help you drive qualified leads to your site who are likely to actually convert. Within the ads manager, you can view the total number of conversion for an individual ad and an ad set.
2. Click-Through-Rate (CTR)
The click-through-rate (CTR) is the percentage of people who saw your ad and clicked to your landing page. Based on data collected by WordStream, the average CTR for all industries is .9%._ However, this average fluctuates depending on the industry as low as .56% (finance & insurance) and as high as 1.59% (retail).
A low CTR is a good indicator that your ads are resonating with your audience. In instances such as this, it's a good idea to adjust the text and/or visual elements of your ad.
3. Relevancy
Another stat to consider is your relevancy score. This is a stat that's heavily influenced by your CTR. Relevancy ranges from nonexistent (for ads that don't have a big enough reach) to 10. The lower your relevancy, the more it generally costs for your ads to be delivered.
4. Cost Per Click (CPC)
Cost Per Click (CPC) is exactly what the name would suggest. This is how much you are charged each time your ad is clicked. The same data collection from WordStream showed the average CPC from Facebook ads is $1.72.
However, the average cost varies from industry to industry ranging from $.45 (apparel) to $3.77 (finance & insurance). When considering a good CPC for your business, it's important to take into account the value of each lead.
The more revenue you stand to gain from a new customer, the more your business can typically tend to spend.
5. Total Conversion Value
Total conversion value is another cost-oriented stat worth paying attention to. It's also another stat that requires correctly installing your Facebook pixel, creating conversion events, and running conversion ads.
Ultimately, the total conversion value tells you how much money you've made that can be directly attributed to your ads.
But, it's important to remember that this figure doesn't take into account the value of brand awareness. Nor does it include website conversions that aren't associated with a conversion ad. So while it's a really important stat to track, it certainly shouldn't be the only ads stat at which you look.
6. Reach
As with regular posts, reach indicates the number of people who saw your ad at least once. If your ad is struggling to attain reach, this is a good indicator that your content doesn't match your audience set.
In instances such as this, it can be a good idea to create a separate ads set to A/B test which ads and audiences perform the best.
7. Impressions
Ads impressions are like impressions for a regular post – they indicate the number of times your ad was shown – even if it was shown to the same person more than once. In order for your ad to receive a relevancy score, it must have at least 500 impressions.
8. Results by Ad Type
Facebook ads are created based on objectives. For our clients, the most traditional ad types include:
Brad Awareness

Reach

Traffic

Engagement

Video Views

Conversions
It's important to consider the type of ads your running and the results you are seeing. Often, this isn't simply done by looking at Facebook analytics. Rather, it involves looking at your sales figures for a given time period and your referral traffic through Google Analytics. This can help you attribute successful ads campaigns with spikes in sales.
9. Media Performance
Another essential consideration is what pieces perform the best. For our clients, we consider:
What type of media is delivering the best results. Are pictures, slideshow videos, voiceover videos or video interviews performing the best?

Which images are performing the best. It's not uncommon for a client to have two or three images that consistently outperform the others. While you certainly don't want to only use these, they can be a good resource to cycle back through.

A color scheme fans react to positively. Sounds silly, but we've seen instances where yellow-toned images drastically outperform those with black and blue tones. It's worth paying attention to.

Gender and/or age preference among fans. You may find fans respond better to moms or young kids. You could discover your fans like to see happy, middle-aged couples or lively twenty-somethings. They key is to spot the pattern.
Want to Utilize Facebook to Achieve Your Goals?
Our creative team is skilled at developing and managing Facebook marketing campaigns to help you achieve your goals. We handle everything from a monthly ads campaign to complete page management.
Let's talk about how you can start using Facebook more effectively.
Additional Facebook Insights
Want your replies to customer questions on Facebook to strengthen your relationships? They can. Learn how.
Customer service issues can be a headache, even for the most skilled social media manager. The key's to not let them spiral out of control. Learn how.
How to Say 'Thank You' to Compliments on Facebook