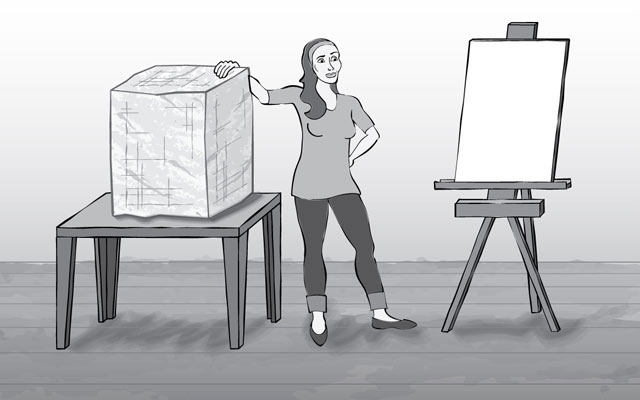 Choosing the Right Medium(s)
Not all shoes work for every activity. For example, high heels and basketball aren't the best match. The same holds true for your content. No two communication mediums are alike. Within your content strategy, you need to identify which mediums your company will use.
Why? Because appropriately using whichever mediums you choose will help you maximize your effectiveness.
But, and this is a big but, it's important to keep in mind, your business does not have to participate in every medium. Most likely, it shouldn't. Slapping up material in every possible place rarely leads to high quality content.
By focusing on a few communication mediums, you can provide valuable content that engages your customers. To select which medium(s) your business will use, you need to understand how they function. Below we've defined the top ones for your consideration:
Website – An Internet based location for your business.
In today's world, not having a website is a lot like not being listed in the phonebook. While you could operate this way, we strongly advise against it. At the bare minimum, your website should clearly state your business' name, the service(s) or product(s) you provide and your business' accurate contact information.
The most successful websites are accessible across multiple devices including laptops, smart phones and tablets. They are Search Engine Optimized (SEO) to help customers and prospects find you. And, they encourage your visitors to engage with you in some way.
Email – Internet based letters.
Like a website, not having an email address won't keep you from having a business license, but it will certainly hurt your chances of succeeding. The best practice is to have an email address linked to your business' URL (for example ryan@rwldesign.com). At the very least, you should set up a free email account through a third party provider such as Google or Yahoo.
Collateral Material – Physical materials promoting your business.
Collateral materials range from the simple business card and rack card to a detailed product catalogue and magazine ad. As with a website and an email address, having a business card is one of those best practice, must haves for your success.
Blog – A location for regularly adding new online content.
Business blogs allow you to have a constant flow of new information on your website. They provide an opportunity for educating and engaging with your customers.
Blog posts are typically between 300 and 700 words. They address one issue or question and are often written with a very conversational tone. While your blog roll (all of your past posts) can last forever, the most current posts carry the most SEO weight. At a minimum, your blog should be updated on a weekly basis.
Newsletters – Regularly sent email or snail mail informational pieces.
The best practice for newsletters is to have customers opt in. This ensures you are reaching those who want information rather than sending spam.
Depending on your newsletter format, it might contain long informational pieces or shorter tidbits which direct your readers elsewhere. If your newsletter takes the latter form, using a blog to host larger portions of text is extremely useful.
White Papers – An authoritative report that shares information about a topic or a proposal.
White papers are a great way to educate your customers. (This is an education for which many are hungry.) Typically, they are 5 - 10 pages in length. When shared over the Internet, they are often done so in PDF form.
Facebook – A social networking site.
Facebook allows statuses as long as 63,206 characters. We wouldn't recommend you post something even a quarter that big. Facebook statuses between 100 and 250 characters get roughly 60 percent more likes.
When you are creating a Facebook status, think bite size sentiments. Include images or videos whenever possible. When your quick blurb needs more explanation, consider including a link to a blog post or article.
Twitter – A social networking site based on micro bits of dialogue.
Twitter users get a maximum of 140 characters per tweet. While the platform has begun expanding its look and feel, it's primarily a dialogue-based forum. Unlike Facebook or other sites where visuals rule the day, Twitter is all about how engaging and valuable you can be in a snippet.
LinkedIn – A business-oriented social networking site.
LinkedIn is a lot like Facebook with less splash and more coat and tie types. While you can share regular status updates and create a high level of engagement, your typical LinkedIn conversation will be more business oriented and less interest driven.
Have Any Questions?
Unsure which mediums are right for your content strategy? Have questions about how often to use each one? RWL Design can help you decide where and how to connect with your customers for maximum results.
---
Artwork by our good friend, Enjoli Izidor