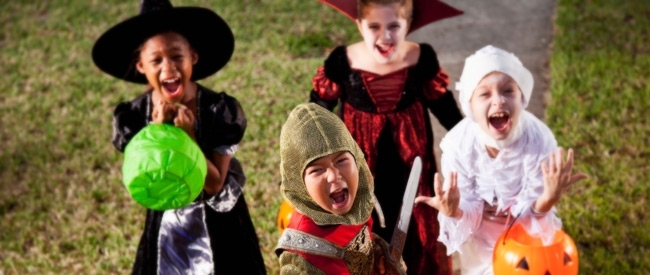 This time of year there is a lot of talk floating around about the shoulds and shouldn'ts of Halloween. More often than not the message says Halloween is bad. It's for the crazies. It's for the kooks. It's filled with scary jokesters who are up to no good. Don't celebrate Halloween, the message says. If you want to have a party, throw an Autumn Harvest Festival.
Autumn Harvest Festivals are sweet. Don't get us wrong. We love a good barn dance and carnival just as much as the next guy or gal. But Halloween is rad too. We're not buying into all the hoopla.
Why? Think about how much effort is put into helping kids have a good time. Adults buy candy by the bushel. Parents spend hours dressing their kids up as super heroes. Houses and businesses are decorated. Stories are told. Pumpkin patches are visited. Corn mazes are explored. Apples are dipped in caramel. Little kids sing "trick-or-treat." Man, we're excited for Halloween!
Here in Edmonds, stores close their regular business operations early and welcome trick-or-treaters. It's a pretty sweet deal. October 31, from 5:00 – 7:00 PM, the downtown district becomes a wonderland of characters big and small. Princesses will prance next to wizards, and ghosts will run beside cowboys. Heck, who doesn't love an excuse to dress up?
Keep your eye out for Princess Leia, Han Solo and Chewbacca. Rumor has it, RWL Design's President, his lovely other half and their four legged friend will be joining the fun as a Star Wars trio.
What are you going to be this Halloween?