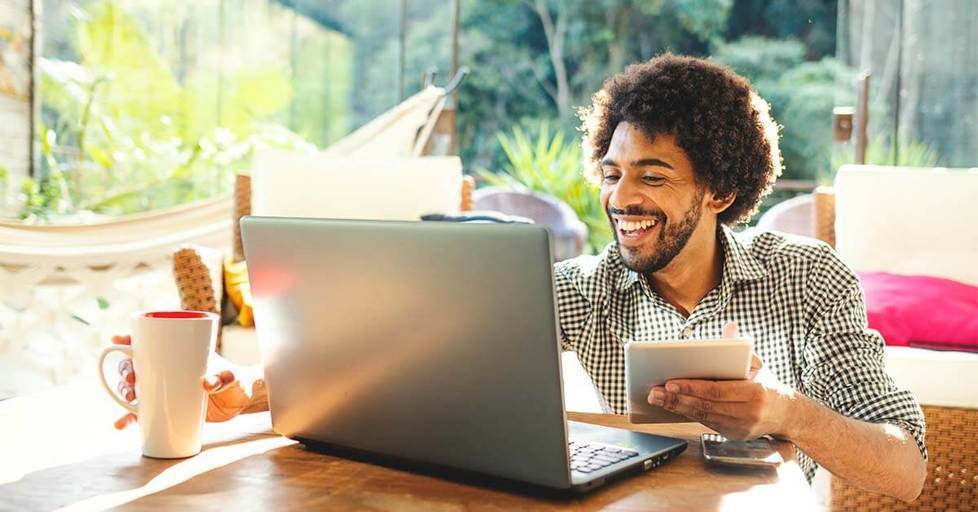 Before we dive in: Let's be real.
A lot of people can't work from home. We need to all be supportive and grateful to those who man the front lines, the grocery stores, the food banks, and the delivery trucks. If you go to the store to provision, don't over-stock-up. Instead, get something you can drop off at a food bank on your way home.
This is hard. It's going to be hard. For many of us, life has turned upside down.
Nearly everyone who can be is working from home.
Are you finding your new WFH status stressful? There's a lack of facetime with colleagues and clients. Increased facetime with family — especially kids — when trying to work. The toilet paper shortage.
It can all be a bit much. But here's the truth — we have a choice. We can choose hope. And here at RWL, that's a choice we're making.
The way our business has been structured, our team has always worked remotely. And we are still. Throughout the years, we've developed habits and strategies that help boost our productivity and mental health.
We hope these tips from our work-from-home vets help you during this crazy time.
Create a Dedicated Work Space
One of the problems with working from home is that it can be hard to unplug (and sometimes to plugin!). Creating a dedicated workspace Helps you distinguish between your working hours and your time off. This can be a really important way to make sure you not only accomplish your todos, but also take time to refuel mentally.
Honestly, everyone's different. If you can't get started, dedicate 30 minutes to pick up, wash the dishes, or whatever. Then get started with a simple, easy work task you can cross off the list.
Get Dressed
Let's be real. One of the benefits of WFH life is the ability to rock yoga sweats and slippers. And that's all fine and dandy — until you aren't being as productive as you need to be.
If you discover you're a little lackluster, consider getting dressed. You don't need to go all out. Keep it Friday casual. But put on something that gets you in the mental mindset to work. At the end of the day, change back into your sweats and slippers to mentally shift into home-mode.
Also, take a shower.
Put on Some Good Tunes
Music is not only soothing, but it can also help stimulate your creativity. Throughout the workday, we keep a heavy rotation of upbeat tunes playing.
Depending on the project, our song selection may or may not include words. Generally speaking, words can be distracting. If you find you find Sweet Caroline slipping her way into your staff emails, try some instrumentals.
There's always Dave Brubeck, Miles Davis, and David Ake (Listen in that order if you are new to Jazz).
Make a Handwritten Todo List
Start each day by taking a few minutes to handwrite a todo list of the 5 things you need to get done that day. Then do them. You just might get the momentum to do more.
But also be realistic. You're not in your normal work environment. Many of us have kids at home. That pile of laundry can be distracting. Cooking with limited supplies can take additional creativity. The reality is, some things may take longer. That is OK.
Take Intentional Breaks
Day after day of sitting can wreak havoc on your mind and body. Make sure you take intentional breaks to move your muscles and give your mind a chance to relax.
This might mean:
Going for a walk (with plenty of distance)

Stepping outside and taking several deep breaths

Praying or meditating

Doing a short yoga flow

Playing with your kiddos (including furry ones)
Another reason we sometimes take breaks is to warm up. Depending on where your dedicated workspace is, it might not be as warm as the rest of the house. Trying to work when you're cold can be distracting and difficult. Moving around a little can get your blood flowing, raising your internal temp.
Create a DIY Standing Desk
Are you use to standing at the office? Don't just assume you have to sit all day because you're home. Get out of your seat by creating DIYing a standing desk. These are some of the ways our team has done so over the years:
Place cinder blocks under your table legs.

Use a tall counter

Place a large box on top of your desk

Order a stand for your desk or mini standing-desk knowing that WFH is gonna be more prevalent going forward.
Eat
As crazy as it sounds, one of the problems our team sometimes runs into is forgetting to eat. Offices have natural lunch breaks built into the day. When you work from home, you don't have this social reminder.
This can really make you hangry and irritable during phone calls. It can decrease your productivity. And, skipping meals isn't healthy!
Rather than discovering you missed lunch at 2:30 when your stomach sounds like a dump truck, try setting an alarm. It can also be helpful to prep your lunch the night before. Simplifying the number of steps can greatly increase the likelihood you eat.
It's a great time to check on family, friends, neighbors, YouTube, an Online Class, a daily devotional – or just stare out the window for a moment in the "Nothing box."
With Portal, Facetime, Video Chat, etc. – you don't need to eat alone.
Give Your Desk Some Personality
Is your home desk feeling a little underrated? Spice it up with a fun decoration. Something like an affordable Funko can add a little bit of spark to your workday and give you an extra reason to smile.
The Good News
The good news: without commuting you have almost 5 extra hours in a week – and in some cases, maybe 15 – to use. You can use that time to get a little ahead, exercise, or take care of your and your family.
Be safe. Be smart. And, screw this virus.
Have additional questions about working from home? Shoot us a message or a tweet. We'd love to help!