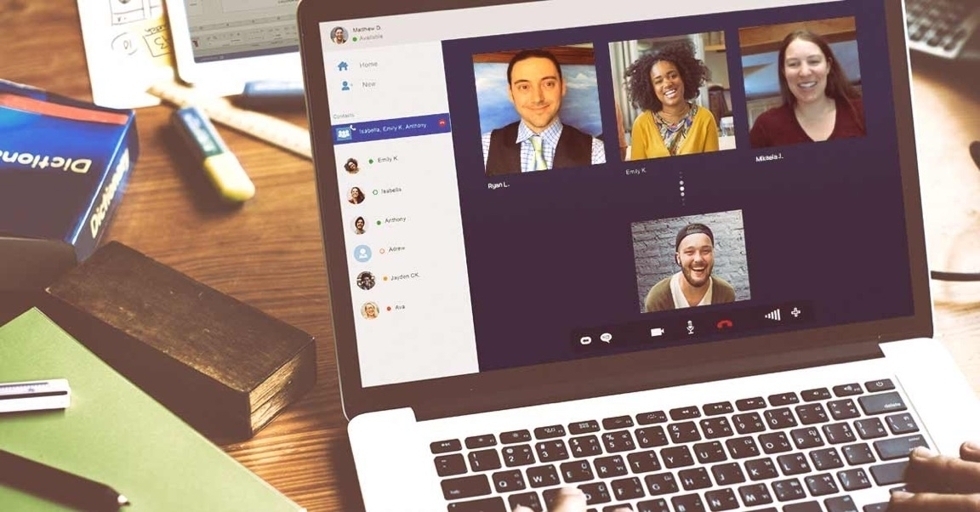 Want to provide better, more creative solutions for your clients? Check out the tools our team uses to collaborate – even when we're working remotely.
Skype
While there is no substitute for face-to-face interaction, Skype provides a reasonable second. This free/low-cost video-chatting service allows users to talk to one another over the Internet. It's easy to install and easy to use. And, it allows multiple individuals to participate on the same video-chat.
This is also a good way to connect with clients who you might not otherwise have the opportunity to get to know. If say your client is in Australia and you're located in Seattle. "Getting together" might not always be reasonable. With Skype, it is.
Just a friendly note. Skype does have its limitations. For instance, the only way to "make eye contact" is to stare directly into the camera. This isn't a natural action. We generally want to look at the screen to see ourselves and everyone else.
The key is to just be as natural and yourself as possible. Look at the camera some. Look at the screen some. Look away some. Treat this as much like you're sitting down for a cup of coffee as possible.
Google Drive
Our only complaint with Google Drive is the very rare instance a file is slow to load. Other than that – Google Drive's the shiznizzel. This robust tool provides everything from word processing spreadsheets to data storage and file sharing.
What we love best about it is the ability to work in real time together on the same document. Multiple individuals can actively be writing and editing the same piece at the same time.
And – if something goes haywire and you need to revert back to a previous version – you can do that too! Google Drive's revision history tracks keystroke by keystroke, so you never lose any data.
Canva Business Account
We've talked about Canva before. Why are we mentioning it again? Because it's amazing. Yes, we have rock star designers on our team. They create awesome graphics. They do great things with typography. They make flyers and custom JPGs. Seriously, you want it – they'll do it.
But when it comes to our own business, sometimes we just don't have the time to create every single graphic from scratch. That's where Canva comes in. It's user-friendly enough even our copywriter can use it.
And, Canva introduced new business accounts. For a reasonable fee, we can share our designs and edit them. (The only hiccup is, you can't co-edit in real time. It only really functions well to have one person working on a piece at a time.)
iMessage/Slack
Email and phone calls are nice, but sometimes a quick message is just what you and your colleagues need. iMessage and Slack allow our team to shoot quick notes back and forth from our desktops and our phones.
We're able to send links, images, and even documents. Plus, it provides a seamless record of the conversation for later reference.
iStock Boards
While we're big proponents of having original photos shot by a professional, sometimes there's just not time or money to do so. That's why we're fans of iStock. It is our go-to resource for stock photos.
One of the things we love best about it is the ability to create and share boards. Boards allow you to group photos of your choice in one convenient location. When we're working with a client, this is particularly helpful. We can create a board with potential images, share it with them, and they can provide feedback.
GitHub
Our team also frequently collaborates on the development and maintenance of websites and web apps. GitHub allows us to share code, while also maintaining versions and branches. This allows us to safely dive into code that's live and make strategic adjustments and updates. Hooray for Git.
Asana
Do you find that a project moves slower than it should because roles haven't been refined and team members aren't sure when a task has truly been completed? Asana solves both of these issues. It allows you and your team to clearly delegate responsibilities, define each step and track when that step has been completed.
We're always looking for new ways to collaborate better. Do you have a tool you love? Pop over to Twitter and tell us!
Additional Reading
Small Tweaks with Big Impacts: How to Increase Session Duration on Your Blog Posts
In essence, a session duration is like a coffee date with a friend. The better and more interesting the conversation – the longer the date.
Hidden Facebook Engagement Opportunity (don't miss out!)
Connecting blog comments with Facebook posts lets you showcase and increase fan engagement.
11 Insanely Powerful Components of a Great Blog Post (Infographic)
The best blog post format is the one that helps you achieve your goals. The components can do just that.