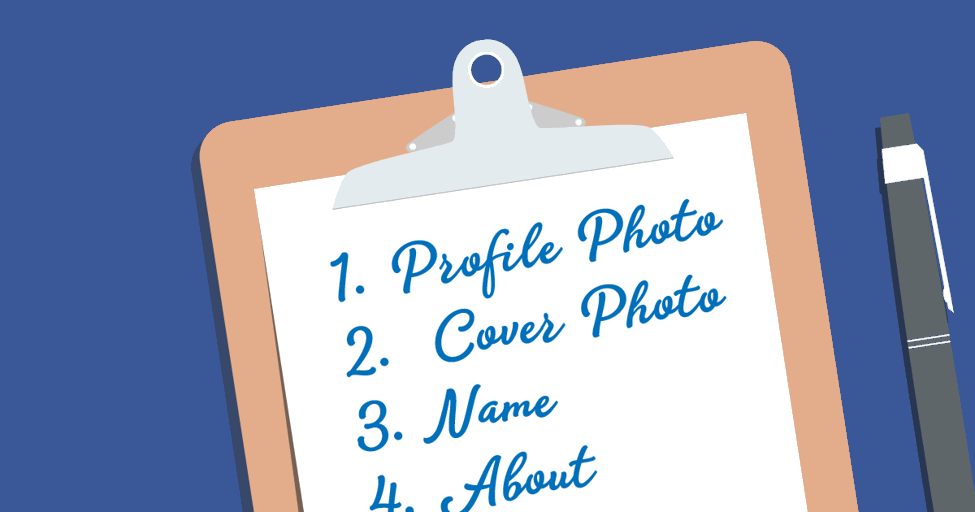 Facebook pixels. Audience targeting. Live streaming. Keeping up with Facebook's latest can feel overwhelming.
However, not optimizing your Facebook presence can lead to missed business opportunities. To help simplify the process, we've outlined nine essential elements of a strong Facebook presence.
Use these as your checklist to evaluate what's working and where improvements could be made.
1. Profile Photo
On social media platforms, your profile photo is one of your key branding elements. Your profile photo is seen more than any other element. Often times it's your business' first impression.
For most companies, your logo is the best choice. However, if you're a one-gal (or guy) show or your face is your brand, a professional headshot is a good way to go.
Recommended Profile Photo: 180 x 180 pixels
2. Cover Photo
The second most important element of a strong Facebook presence is a great cover photo. This is prime real estate. Your cover photo is the first thing folks see when they come to your page. You want to use this space wisely.
How do you do so? With a high-quality image that delivers a message. And, don't forget about updating your cover photo's description. Use this space to add additional details about your business or a current offer. Include a relevant link to where visitors can find more information and any @mentions that are appropriate.
(@mentions allow you to hyperlink to other Facebook pages.)
Recommended Profile Photo: 851 x 315 pixels
Your Facebook cover photo is prime real estate. Use it wisely.Click to Tweet
3. Name
If you've ever tried to change your name, you know how confusing and difficult it can be. You also probably know how essential consistency is. Your name is what allows folks to find you. The same holds true for a business.
It's imperative your business' name is consistent across all your digital channels. While you might think shortening it on Facebook will make things easier, it could be a disadvantage.
Omitting part of your name (such as "Inc." or "LLC"), swapping an "&" for an "and" or using an acronym, doesn't promote consistency for visitors or search engines. It can make it harder for people trying to find you. And, it can cause Google to not recognize that your Facbeook page belongs to you.
4. About
The About section of your page allows you to showcase a variety of details including:
Short Description – This brief summary is displayed in your About section and below your profile picture. It has a maximum character limit of 155 (including spaces).

Impressum – An impressum is a legally mandated statement of ownership. It is an optional Facebook field that's required in certain countries such as Austria, Germany, and Switzerland. Your maximum character limit is 2,000 (spaces included).

Long Description – This longer description allows you to share more in-depth information, such your company history, fun facts, and awards received. Make this section approachable and clear. This is an opportunity to humanize your brand. This is also an opportunity to share links to your other social media profiles.

Link – Ultimately, your website is home base. Make sure it is easy to find by utilizing the Link field within your About section.
5. Regular Status Updates
In the same way Google considers new content more relevant, being inactive on Facebook significantly reduces your page's organic reach. Rather than sharing five updates in a small window of time, it's best to share them over the course of the week. Take a look at your posting frequency. Does it have a regular rhythm?
Schedule – Facebook's schedule feature allows you to pre-schedule status shares.
Publishing Facebook statuses irregularly can significantly reduce your organic reach.Click to Tweet
6. Status Variety
Are all of your statuses promotional? While you'll definitely want to use Facebook to promote sales, products, and services, you want to be careful not to only sell. Reserve your sale-oriented statuses for big pushes.
Why? Because social media is about being social. Consider how often you would visit a Facebook page that only tried to sell you things. Rather, mix up your social shares with helpful and relevant tidbits. These could include:
Links to insightful articles
Engaging questions
Inspirational quotes
Beautiful images
Video highlights
Live streaming interviews
7. Special Note About Live Streaming
Live streaming is a new video feature. As the name would suggest, it allows you to live stream a video directly to your Facebook page. This video is then saved as a regular video. While things could change at the drop of a hat, Facebook's newsfeed algorithm is currently giving a significant amount of weight to live streaming – effectively increasing its organic reach over other status types.
8. Replying
Remember when we mentioned how social media is all about socializing? That means the conversation can't be one-way. If your audience is commenting on your statuses – reply. This could be as simple as acknowledging their comment. However, the more personalized the reply the better.
Not replying to comments on your Facebook status is like going on a date and never saying a word.Click to Tweet
9. Commenting
Like Google, Facebook's newsfeed algorithm is a closely guarded secret. However, we do know it considers "shares" more valuable. (A "share" is when someone literally shares your status on their profile, page, or friend's page.)
Depending on the privacy settings of the individual who shared, you will be able to view your shared status, like, and comment on it. Acknowledging the share increases the visibility of your brand and encourages those who share to do so again.
Call-to-Action Button
Located at the top of your page, over your cover photo, Facebook allows you to have one call-to-action button. This button will be directed to the landing page of your choice. This button can be labeled:
Book Now
Call Now
Contact Us
Send Message
Use App
Play Game
Show Now
Sign Up
Watch Video
Send Email
Learn More
BONUS: Verify Your Facebook Page
Verification badges are circular checkmarks which indicate Facebook has verified the page as authentic. They come in two different colors, blue and grey. Blue represents a page or profile of a public figure, media company or brand. Grey represents local businesses or companies and organizations. View Facebook's easy-to-follow six-step verification process here.
Next Steps
Need help fine-tuning your Facebook page and content strategy?
Partner with our team to optimize your appearance, craft statuses that engage, and manage audience participation.