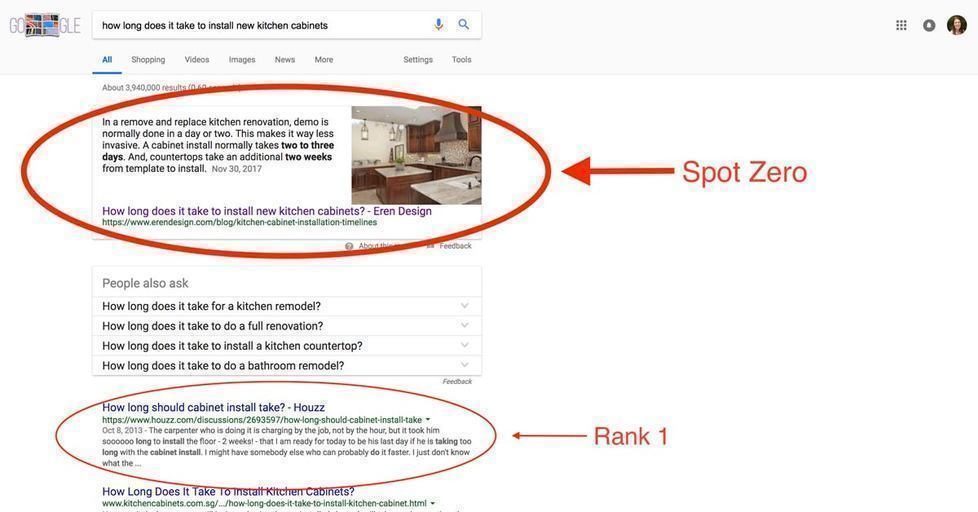 Google's 'spot zero' is like marketing gold. Also known as the quick answer box or featured snippet, these high-profile placements generally result in a substantial increase in website traffic.
Emerging in 2015, snippets didn't have the same world-rocking effect to Search Engine Optimization as Hummingbird (Google's simultaneously introduced search engine algorithm). However, in the subsequent years, the profound importance of spot zero rankings has become undeniable.
What is Spot Zero?
A spot zero placement often eclipses Google's organic search results. And sometimes, it even eclipses paid search results.
Appearing at the top of the page, it is encased by a shadow box. (This gives it more visual weight.) Within the box is an answer to the search query (pulled directly from a website), the article title, and a direct link to said article. Spot zero results also occasionally include an image.
These large placements aren't flukes. Globally, 15% of all search queries deliver an answer box, according to STAT, the well-respected Vancouver-based search analytics firm.
These snippets appear in one of three ways: Paragraph, List, and Table.
Paragraph
These quick answers are typically 1 – 2 sentences in length. While they may occasionally display the article's meta description, this is rare. Rather, they are text pulled directly from the article or landing page.
List
Lists can be numbered or unnumbered. They will always include at least two items, as seen here. However, that have been found to have up to five items displayed.
Tables
We're including this for general awareness. However, these featured snippets have all but been phased out. Our educated guess is that tables don't render as nicely on mobile devices and so Google has moved away from them.
11 Tips to Get a Featured Snippet
As with all things Google, the exact algorithm used to determine a quick answer is a closely guarded secret. But, SEO experts have done extensive testing – including here at RWL Design where we've been finely tuning our content marketing strategies to improve rank and achieve spot zero. The efforts have revealed several keys about how to get a featured snippet.
1. Answer a question that hasn't already been answered.
The easiest competition to beat is no competition at all. If you have a relevant question that includes a high-volume keyword, and hasn't earned a quick answer result already – that's a great place to start!
2. Or answer a question that's been poorly answered.
Did you find a quick answer response that's poorly answered? This could be your chance to one-up the competition. It may be that the blog post is poorly structured. It might be that the answer is no longer relevant or is incomplete. By writing an accurate, highly relevant response, you might be able to steal the spot zero position.
3. Select questions that don't have purely a one-line answer.
To improve user experience, Google is trying to answer questions within search results. This means users don't have to click to another site to find their answer.
For things questions like, "What time is it in Hawaii?" and "How many ounces in a quart?" this is great. These are not the kind of questions you want to target.
Rather, you want to target questions in need of a longer response – responses that showcase your expertise.
4. Put the keyword in the URL and title.
As much as possible, focus on using the exact keyword. While search engines are good at identifying related keywords, Google still seems to really like exact keyword matches for their spot zero results.
Word to the Wise: Don't prioritize exact keyword matches over grammatically correct, reader-friendly text. If history has shown us anything, it's that putting the user experience first delivers long-term success.
5. Use related keywords throughout the post.
While you want to focus on the exact keyword match within the title and URL (where appropriate), don't forsake related keywords. You're not just going after a spot zero result. You're also trying to earn the best organic Google rank possible.
It may be that you earn the spot zero placement and a strong position in search results. This would be the best of all worlds.
6. Use the keywords within the image caption too.
Quick answers aren't only pulled from the body text of a post or site. They can be pulled from image captions too. Make sure your image captions are reader-friendly, include relevant keywords (when appropriate), and are long enough to warrant a quick answer box.
7. Entice click by using Google's maximum snippet length to your advantage.
One of the qualms some SEO professionals have voiced over featured snippets is that they could reduce a user's likelihood of visiting a site. To encourage clicks, try and formulate your answers so they are longer than Google's maximum snippet length. This will force a user to click to read the whole response.
Generally speaking, Google is truncating snippets at 300 characters, according to MOZ.
8. Invite relevant websites to link to your post.
Another signal that your post (and therefore your website) is relevant and valuable are inbound links from respected sites. If you have a post that mentions another website, consider reaching out. You can invite them to link to the post and to share it through their own social channels.
9. Submit your post to be indexed. And, share them through your own social channels.
Google can only crawl so many pages at a time. Which means, not every updated or newly published page is acknowledged all the time. In order to help see your newly published post, you want to submit the post to Google's Search Console.
You also want to make sure you're sharing your post through your own social channels. The more traffic a post gets, the more relevant it appears to Google. This can help increase your likelihood of earning a spot zero placement.
10. Monitor and optimize your post, as needed.
As with designing a website, don't assume your blog posts are one-and-done. They are each a work in progress. By monitoring their performance, you can make strategic updates to the content and structure to improve their rank.
11. Remember, you won't always strike gold.
You're not going to hit it out of the park every time. In fact, with only 15% of all search results delivering a quick answer box, chances are you won't achieve a spot zero result very often.
But don't be discouraged. The same tactics you're using to go after a spot zero result can help improve your post's rank in general. In the screenshot below, our post 'How to Reply to Comments on Facebook' is ranked No. 4 within organic search results. This is an extremely strong rank, especially when you consider we're competing against Facebook – arguably the most popular web domain.
Develop a Content Marketing Strategy that Drives Traffic and Attracts Leads
Our creative team of comprised of highly skilled SEO researchers, content writers, web developers, and design experts. Each content marketing strategy is developed collaboratively. We work closely with our clients to pinpoint the most valuable topics, develop a comprehensive content calendar, and then craft highly-relevant pieces.
See how this approach contributed to Eren Design's 280% increase in new customers following their website redesign.
Additional Reading
Not everyone's site gets traffic like The New York Times. That doesn't mean you can't make strategic updates to increase conversions, KPIs, and ROI. Tired of throwing darts in the dark? Bookmark our list of 13 ways to make your site perform better.
What really goes into good SEO copywriting? As it turns out, a lot. And it all begins with defining your goals and performing extensive research.
Want your website to start delivering real results? Content marketing strengthens your existing marketing strategy offering real, long-term results.