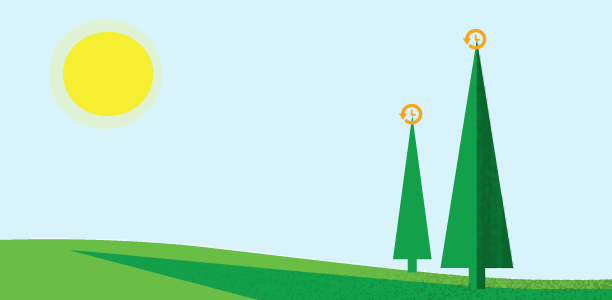 Helpful Tips to Plan Your Year-End Goals
It's July. It's time to plan for the holidays, but where do you start? Begin by reviewing last year's performance. How did your promotions do on the web and in print? What kind of responses did you see? When did you receive the most traffic on your website, in your store, and over the phone?
Using the data from last year will help you prepare for the coming season. If you aren't tracking your success, start now. Keep a log of customers who respond to your e-mail and mail promotions. Install a website tracker to discover where your hits are coming from, when you receive the most traffic, and potential trouble areas.
Since 2008 we have used New Relic to track our clients' sites. Recently we utilized the data from New Relic for Road Tortoise. Making small adjustments to the website's infrastructure, we have made it's forthcoming update more user friendly by improving it's speed. The same was done for earlier projects like About Redlands, which now has an avergage response time around 100ms with 10k visits a month. New Relic is a valuable service for any site whether you are a SMB, Startup, or Enterprise Company.
Once you have determined last year's peaks, ask yourself if you're ready to handle them. Do you have enough staff for the increased foot traffic and phone calls? Can your website handle the increased hits? Often a website will see 400 – 500 percent more activity during the holidays. Make sure you have a plan for scaling your site if you expect additional traffic. If your site is unable to handle the increased usage, it can crash and you can lose potential sales.
Where are you with your holiday planning? To help you get ahead, here are some resources to consider:
New Relic
New Relic helps monitor how long your web requests take so can triage and fix the bottlenecks of your web site.
Google Analytics
Google Analyitcs is a suite of website tracking tools which allow you to view where your traffic is coming from. This includes: organic searches, referring URLs, e-mail blasts, mobile devices and more. With Google Analytics, you can set measurable web traffic goals and learn how your content improves engagement.
Gaug.es
Gaug.es is an uncomplicated tracking service that gives you real-time access to traffic on your site. It is easy to integrate and a good option if you have never worked with Google Analytics.
Square
Take a cue from the Apple Store and let people pay when they are ready. Square lets you take payments on your iphone or ipad, while also giving you quick stats on your sales.
Campaign Monitor
With Campaign Monitor you can stay in touch with your existing customers by letting them know about your upcoming plans. This e-mail campaign service has good-looking designs which read well on computers and mobile devices. Invite your best customers to a special evening of sales, send out a friendly tip to all your clients, or give a coupon to a randomly selected few. With Campaign Monitor, you're always in touch.
SaleCubby
If you are not already tracking your sales and customer data, you should be. SaleCubby is a simple and easy to use sales tracker to get you started.