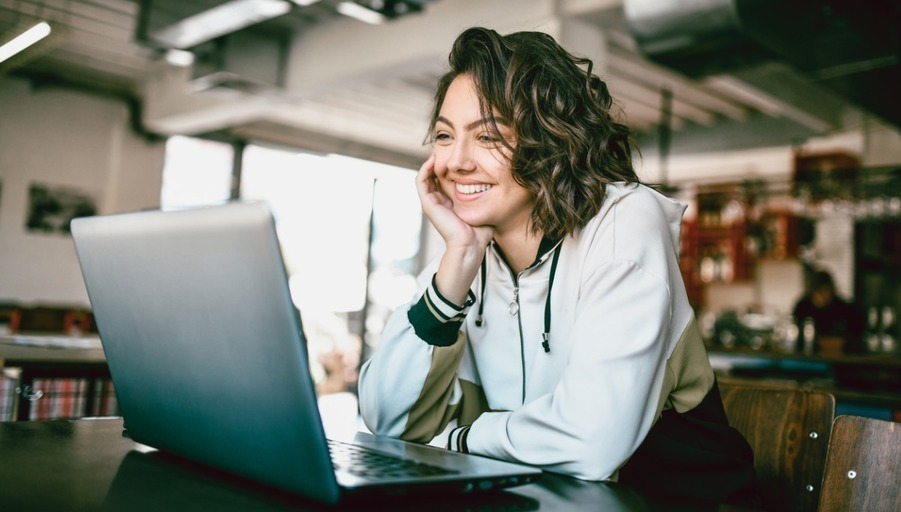 Videos aren't just a 'nice' addition to your website. They can increase conversions. According to a study released by Invodo, "52 percent of consumers say that watching product videos makes them more confident in online purchase decisions."
Furthermore, videos have been shown to increase "dwell" time on your website, a factor which the head of Google Brain, Nick Frost, confirmed plays a role in rank.
Dwell Time vs Bounce Rate vs Time on Page
It's important to recognize that 'dwell' time isn't reported in Google Analytics. Nor is it the same as Bounce Rate or Time on Page — though it's often confused. Ahrefs, an SEO website tool kit specialist, defines "dwell" time as:
The amount of time that passes between the moment a user clicks a search result and subsequently returns back to the SERPs.
This differs from Bounce Rate, which is the percentage of sessions a user interacts on one page and leaves (or stalls out). And it differs from Time on Page, which is how long a person stayed on a specific page before going elsewhere.
Because "Dwell" time specifically refers to how long until a user stays on a page before returning to their search query — it helps a search engine indicate how immediately useful its results are.
5 Ways to Embed Video on Your Website
There are a wide variety of ways to embed videos on your website. The following five only scratch the surface. The right option for your business or organization will vary based on several factors, including, but not limited to:
How big the video filesize is. A 1-3 minute video with 500 partial views will take less bandwidth than a 30-minute video with 300 views. Some platforms charge you by bandwidth (the amount of data that is sent via their CDN when users stream your video) – so it is good to be aware of what the bandwidth will be.

How many people will likely view your video. Most video platforms use CDNs and can handle thousands of views. But again, those views may likely cause an increase in cost.

How many videos do you plan to embed on your website. If you have a handful of videos or dozens, it is good to think about your embedding process to keep your page fast. The number of videos also affects how easy you need embedding to be. It's simple to manually place 1 or 2 videos. But if you are publishing any more, a dedicated process will make it faster to publish and less error-prone.
1. Wistia
Wistia offers a comprehensive video marketing software solution. The platform allows you to:
Maintain control of your videos.

Host your videos on a dedicated platform.

Customize your videos with brand-specific colors and personalized logos.

Upload and stream large files to large audiences.

Add Podcasts.
One of the things we love the most about Wistia is the ability to host and stream large file sizes. Now that so much of business has moved online, longer-form videos have become increasingly important for many businesses and organizations.
Many of the streaming video software services limit how big of a video you can upload. And, not all of them can handle a large viewership, which can crash your site.
Wistia also makes it easy to embed, manually or programmatically. You add chapters, end cards, annotations, and even request human-prepared captions. With the customization tools, it offers the most options to make your video presentation consistent and compliant with web accessibility as a business.
2. Vimeo
Vimeo is another one of our go-to video solutions. It allows you to:
Customize your video's branding.

Host your videos on Vimeo's platform.

Embed your videos on any site.

Get great support for live streaming.
With a much more flexible pricing plan, Vimeo has a pricing structure that can grow with your video needs. They also have a rock-solid video player. With the Pro or Business plans, you get access to much higher bandwidth limits, plus varying interaction features like contact forms, end cards, and links.
Higher-tier plans can also integrate with payments if you need to restrict access to your videos.
You can also add captions, but you'll need to generate the caption files manually or with a service like Rev.com.
3. YouTube
YouTube is a comprehensive social media platform that allows you to upload and embed videos free of charge. However, it's important to keep in mind that 'free' comes with some strings. These include, but are not limited to:
Control. You don't have complete control over your videos. YouTube can mute or block any of your footage at any time.

Ads. YouTube can (and often does) place ads at the beginning and end of your videos.

Limited Customization. You don't have as much control over the customization of your videos' branding.
Why then would someone use YouTube? In addition to YouTube hosting your videos for free, being on YouTube gives you access to a large audience. It has 2 billion users worldwide!
Like being on Facebook, Instagram or Twitter — there's no guarantee you'll reach even a fraction of these individuals. But you have the potential to, especially if you're producing high-quality video content. And for the businesses and organizations that can dial into this large audience, that organic traffic is priceless.
4. Facebook
Like YouTube, Facebook is another social media platform that allows you to upload and embed videos on your website for free. However, like YouTube, Facebook isn't without restrictions. These include:
Lack of Ownership. Because you don't own your Facebook page, Facebook could delete it at any time. This means any video that you've uploaded there and any audience that you're developed on Facebook would be gone.

No Access Restriction. Facebook doesn't allow you to easily restrict who can access your video. For many businesses and organizations, this isn't a huge issue. However, if your videos are subscription-based, then you would run into some trouble with how to control who has access.
5. Amazon AWS, Bitmovin, or Mux
The fifth option we'll cover is integration with video encoding platforms. Amazon AWS, Bitmovin, and Mux all have uploading, encoding, and streaming options. If you offer a video product, these three can offer DRM access, programmatic APIs, and industry-leading encoding.
They basically offer you the tools to build your own video streaming service. If you need control over the whole process, or need to upload, encode, and deliver videos ad-hoc, this may be the route to take.
Pricing will vary. Amazon AWS has a pay-per-use model for uploading (bandwidth), encoding (per-minute of content), and delivery (bandwidth). Bitmovin and Mux have plans, plus additional fees for extra features. All three do their tasks very well. The right fit will be determined by your own business model and projects. It's also important to note that there is potentially a higher development cost to integrate with these services.
Video is Here for the Long Run
Like social media and email marketing, video is here to stay. And, it's an incredibly important piece of every company's marketing strategy and customer service options.
According to a recently published study on Bitable, "68% of marketers say video has a better return on investment than Google Ads." and it's not just millennials who are watching videos online. CISCO reports that globally there will 3 trillion minutes (that's 5 million years!) of video content streamed EACH MONTH in 2021! That's a HUMONGOUS potential audience.
Need Help with Your Video Content?
From connecting you with a professional production company to helping you learn how to DIY your own videos and everything in between, our team is here. We assist clients with the insights, tools, and technical expertise to create engaging video content.