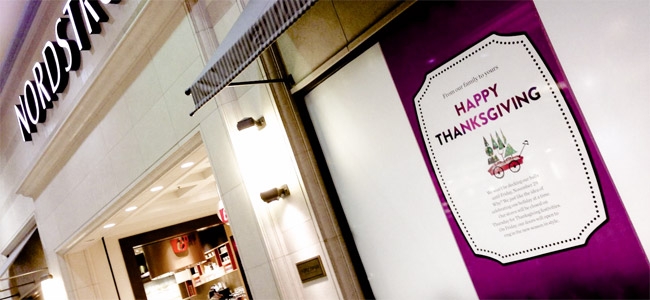 It can feel like Thanksgiving has been prodded and pushed out of view. November 1st, when jack o'lanterns start disappearing, stores begin decorating their shelves with red, white and green. Christmas carols beckon shoppers to start their season before Veteran's Day. Even Black Friday has slinked into a Thursday mad rush. There is so little time for roasting a turkey this year one might wonder – what's the point?
Don't get us wrong. Christmas music was playing while writing this post and we're fans of maximizing your holiday sales potential. Businesses are there to make money and provide jobs. Yet, we can't help but think how it is important to savor Thanksgiving and take time to be grateful. (Huffington Post gives just a few reasons.)
For Americans, Thanksgiving is the universal holiday. Yes, it's shrouded with a few blemishes, but what part of history isn't? When you break it down, Thanksgiving is a rockin' holiday.
It's not based on your race, age, religion or income bracket. It's rooted in family and giving thanks - for being joyful. Whether you're Republican, Democrat, or somewhere in between, we can all be thankful for a country which allows us the freedom to pursue dreams and challenge the status quo.
In fact, you don't even have to be American to jump on this bandwagon. Why? Because the success of Thanksgiving isn't determined by gifts. It's measured by hearts filled with love and meaningful time shared over a meal - with family or friends.
If you can't tell, we're big fans of Thanksgiving. Especially Momma Lonac's homemade stuffing. But, that's an entirely different journal entry.
And while so many businesses are busy trying to one-up their competitors, there are some which have caught our attention for standing up for this great holiday. Take Nordstrom for example. Year after year they continue to wait for Christmas until after Thanksgiving. They have even posted signs announcing the importance of celebrating one holiday at a time. If you are at a mall, check it out - not only is it designed well, but it is impressive.
Good form, Nordstrom. We're big fans of your commitment to this holiday we love.
Now no worries, we also love the crazy passion of all things red, white and green. In fact, our office tree becomes our undecorated "shrubbery" during the off season. We're not saying don't take your Santa photo or hang your lights - it's checked off our list already. We're saying take time to enjoy Thanksgiving and take pause to be grateful. After all, who can resist hanging a little mistletoe while munching on a turkey, cranberry and stuffing sandwich?
P.S. If you rush out to the Black Friday deals, save a budget for Small Business Saturday and stop by some local stores as well - it's always worth it.