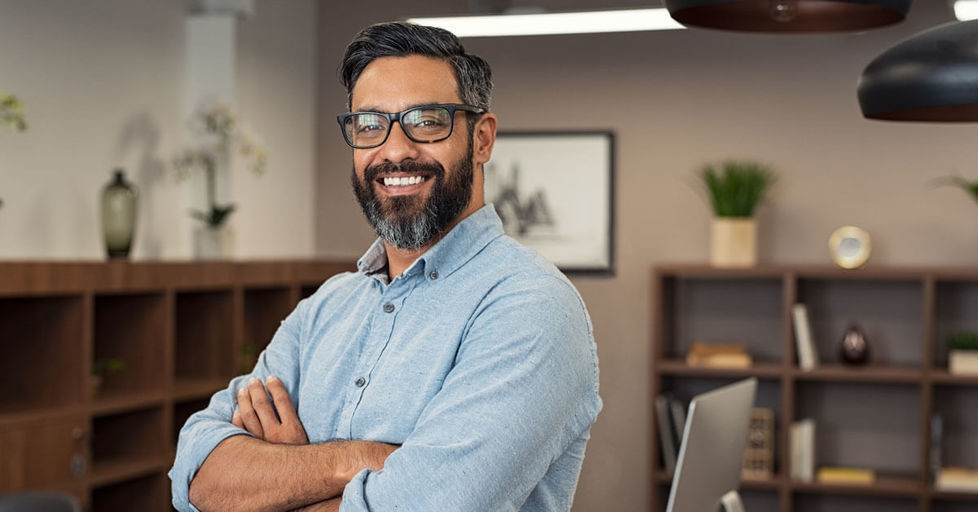 For most sites, the About Page is one of the most visited pages. And, it happens to be a page that visitors really want to see. According to a study conducted by KoMarketing, 52% of visitors want to see an About Page and 16% of visitors go to the About Page first!
While you may have considered making an About Page or already have one, have you considered making your About Page a workhorse for your website. Dan Lambert, co-founder and CEO of BoardVitals, strategically updated his company's About Page and saw an 8% increase in the page's value.
Making even minor adjustments to your About Page can deliver big results to your site's performance, by helping you better connect with customers and improve time on site.
8 Things an About Page Should Have
1. A Message to Visitors
You probably think your About Page is about you. It's not. Your About Page is about your visitors. It should be written for them and to them. This means your About Page should address:
The problems your visitor is facing.

How your company and your website solve those problems.

What type of information your reader will find on your site.
Does this mean your About Page isn't about you at all? Definitely not. Part of why a visitor looks at your About Page is to get to know you. But, it does mean that the page should be interesting and relevant to the reader.
2. Visuals
Images aren't just about making your website look pretty. They help grab your visitor's attention, humanize your business, and can make you more memorable. Why? Because they help stimulate additional senses.
Like the rest of your site, your About Page should always include images. What images you include may vary depending on the business or organization you run. But at a minimum, we strongly recommend including a picture of your founder, president or CEO.
People like doing business with other people — not big, impersonal corporations. By including an image (or images) of the individuals who actually work for your business, you help remind your visitors of the humans behind the website.
Additional visuals may include, but are not limited to:
Video introduction of your business

Pictures of your location

Pictures of your team

Historical images
PLEASE NOTE: Do not rely on just video on your About Page. Video can be a great tool to help connect with visitors on another level. However, you don't want to rely on video alone because there are multiple instances when visitors don't want to or physically can't view your video. This could include individuals who are hearing impaired or visually impaired. It may be that some of your site visitors are in a public space where watching a video is inappropriate or even not allowed.
If you choose to use video, make sure to include a summary paragraph below the video. You may also consider adding captions, to allow even those without sound to follow along.
3. Credentials
You like to work with businesses and individuals who have a proven track record for success. We all do. It builds trust and reassures of us that we're making a solid investment.
A good way to show you have the necessary skills is by listing your credentials. This could include, but are not limited to:
Degrees

Certifications

Accreditations

License

Non-Profit Status

Awards
4. Bios & Headshots
One of the quickest ways to humanize your organization is to show the humans who make up your organization. Sometimes it's not always possible to show your entire team with their own individual section or as a group. But, you want to at least introduce the president or CEO with a bio and headshot.
Not only should the bio include credentials — like past work experience — it should include hobbies and or personal details — such as interests outside of work and family. Bios are also a good place to reinforce the company's mission statement, by highlighting the high-quality people you have working for you.
Discover our three essential elements of a great bio.
5. History
Highlighting the history of your company is another good way to build trust. It shows that your business is one customers continue to utilize and believe in year-after-year. It can also be a good way to help your customers connect with you emotionally.
What if your company is new? Chances are you didn't just wake up and start a successful business. Tell the tale of how you came to be, highlighting the inspiration behind your business and research that went into its creation.
6. Engaging Language
Your About Page isn't the time to put on a coat and tie (so to speak) — unless that's the kind of buttoned-up language you use on the rest of your site. Rather, your About Page is a space to let your personality really shine through with engaging language.
Don't be afraid to crack a joke (if you can pull it off) or show off your dorky side. Plus, eliminate as much corporate jargon as possible. This helps keep the text reader-friendly.
7. Social Media Links
We strongly recommend making sure all your social media links are clearly visible on all pages. That being said, sometimes that's not possible. At a bare minimum, you want to put all your social links on your About Page. Preferably at the top.
Social media is a fabulous way to connect with and build relationships with your customers. Make it as easy as possible for them to connect with you by having all your links clearly visible.
8. CTA
Generally speaking, the longer a visitor stays on your site, the more likely they are to become a customer. So when they land on your About Page, you don't want them to immediately bounce or exit at the end. This is where the call-to-action (CTA) comes into play. Don't overlook it.
Make sure your About Page always has a CTA. This could be, but isn't limited to:
Inviting visitors to sign up for your newsletter.

Directing them to your favorite blog posts.

Encouraging them to connect with you on social media.

Inviting them to explore your newest product or service.
Get Help with Your About Page
Our creative team is well-versed in website and web copy development. We can help you strategically update your About Page to maximize reader retention and increase leads.
Sounds great! My About Page Needs Help.
Additional Marketing Tips
How do you use analytics to increase sales and improve your bottom line? The first step is to make sure they are tracking correctly.
Is it really worth investing in content marketing? Yes! Content marketing is a highly effective and affordable strategy to increase your online leads.
Want to get the biggest ROI for your Facebook investment? Make sure you have access to the expertise, skills, and know how needed. An established design and marketing agency not only invests in their people's development, but their team is also using those skills on a daily basis, so your business can benefit.
Has a compelling case study made you want to redesign your website? Every site can be better. But before you toss the entire thing, do some research to ensure you see real results.